Last month a client and partner of ours, Human Synergy, took part in Helping Hands, the team building activity we can't stop raving about at HC. Human Synergy is a trainin
g and engagement company, who used the Helping Hands activity amongst its own employees.
Recently we spoke to Jason Murray from Human Synergy about his experience with running the Helping Hands activity.
Human Synergy decided to use Helping Hands as a "trigger activity", which just means it was used to trigger employees to think about the purpose of their work.  Jason believes it more than achieved this purpose, as the feel good factor of contributing and making a difference enabled the team to reconnect with their own purpose.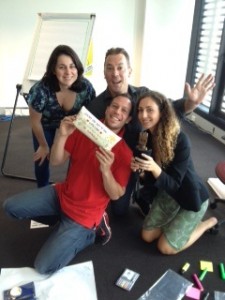 Jason's innovative use of this activity highlights the versatility of Helping Hands. Not only is it a great team building activity (especially when doing the one-handed-build), but it can also be used to meet other needs in the workforce, such as being a motivation and reflection tool.
For Jason's team, the question Helping Hands pushed them to ask of themselves was "are we truly connected to what we do and our purpose?" They were challenged to reflect on the importance of communicating. In particular, communicating the success of what they did with their customers and clients back to those who were involved in making it happen, especially to those employees that are not necessarily on the 'front line' of it all.
Human Synergy used the self facilitation kit for runn
ing this activity. Jason says he was surprised at how well presented the kit was, and how straight forward the instructions were, but that the real benefit  of having this kit are videos which were included. For him, these videos perfectly framed up and closed out the activity.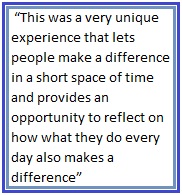 Human Synergy has really taken a shining to Helping Hands. Not only do they say they would they recommend it to other organisations, they are planning on integrating the program into the training and development services that they currently offer clients..
If you would like to find out more about Helping Hands, email us at [email protected]