Recently, I was lucky enough to attend the best conference I've been to in years. This was largely due to the passion, organisational skills and effort of an incredibly talented HR Professional that I have now worked with for a number of years. I was particularly moved by one activity that she arranged called "HELPING HANDS". Put simply, this team building exercise is unlike anything I had ever seen before and if any of you are currently planning a conference, offsite or team-building activity, you would be crazy not to at least investigate this activity further!
Here's how it works. The program is called Helping Hands because it is an activity that challenges participants to assemble artificial hands for later donation overseas. What you build with your hands, literally finds its way to an amputee land-mine victim that would not otherwise be able to afford a prosthesis. The plastic hands are composed of moving and non-moving high-grip digits controlled by a spring-loaded mechanism. They are strapped on, not surgically attached, and can be easily mastered so that recipients are quickly undertaking the tasks of daily living such as sipping a beverage, tying a shoelace, holding a pen or computer mouse like you are now!
Participants in the Helping Hands activity learn teamwork by confronting, discussing and puzzling over their challenging and/or engaging activity. As participants realise what they are building, a great sense of purpose and responsibility emerges. They also grow understand what they do professionally and personally can resonate with their customers, their communities and beyond.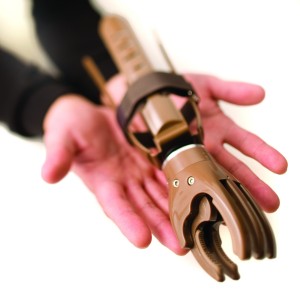 The origins of Helping Hands lie with Ernie Meadows, an industrial engineer and his wife Marj, a Californian couple whos daughter died in a car accident. In her memory they created the Ellen Meadows Prosthetic Hand Foundation and Ernie Meadows designed the prosthetic hand for the foundation (http://In-4.org).
In partnership with a US-based company called Odyssey Teams, we have recently secured a distributorship of the Helping Hands activity.  So, if you would like to run this activity, just let us know. When you buy the activity, it comes all packaged up and ready to go for you to self-facilitate. However, most of our clients also choose to engage us to help bring this amazing experience to life. If you're interested in exploring this activity further then just let us know by dropping us a line at [email protected].
Christmas Time is a period of giving and reflecting on those things we are thankful for. So if you are still planning activities for your Christmas events why not consider this activity?  Another idea would be to use the Helping Hands to help invigorate your staff upon return AFTER Christmas. Why not kick off 2012 by giving staff the renewed sense of purpose they will obtain from this activity!
For more information about the Helping Hands activity please check out the video below: