Whistleblowing is the act of exposing some act of misconduct within an organisation. Whistleblowing can occur in any organisation whether it is large or small, public or private, government or non-governmental. Whistleblowers often face an uphill battle to be heard in large organisations (especially where the misconduct they are attempting to expose is wide-spread or systemic) and without the protection of robust whilstleblowing policy, can often face significant reprisal from within the organisations that they seek to serve.
Although it's too early to state this definitively, you could say that the 2010 – 2020 decade is shaping to be the decade of the whistleblower. New websites such as wikileaks (currently found at the following website: http://213.251.145.96/) have risen to prominence by providing whistleblowers a vehicle to distribute information. In addition to this, social networking sites like facebook, have been partially credited with enabling whistleblowing and organisation of protests on such a scale that it has led to the displacement of multiple governments in North Africa: http://www.globalpost.com/dispatch/africa/110126/protests-riots-tunisia-egypt-lebanon-middle-east-north-africa)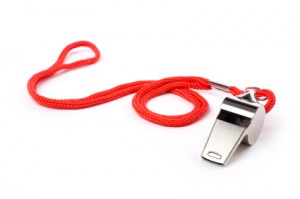 I do think that it is a fair assessment to say that Whistleblowing is not only here to stay but the implications of it are increasingly significant for organisations; large and small. Further, that if organisations do not provide an internal vehicle for their staff to whistleblow, they will seek to find such a vehicle externally. Once this occurs, and a complaint goes public, not only can companies suffer reputational damage via the ensuing "Trial by Media" but they can also lose the ability to carefully investigate complaints (since most external whistleblowing is done anonymously).
In the wake of the well publicised Stern Hu case, Rio Tinto have recently launched an initiative to ensure that their staff are aware of their whistleblowing policy. It appears, on the basis of the article found below, that Rio has recognised that investigating allegations of bribery and corruption can be approached in a more careful, considered and controlled manner when such an investigation is conducted away from the prying eye of the media. For more detail on the changes Rio has made to its policy please see the following link: http://www.smh.com.au/business/all-ears-for-whistleblowers-20110316-1bxbf.html
This recent article got me thinking. Not all companies are as big as Rio Tinto and we probably don't all have the same risk profile in terms of international scandals. However, in the "Decade of the Whistleblower" all companies should consider putting in place at least a basic policy and process. There are many benefits of doing so, just some of which include:
Provide protection to the people in your own organisation who have the courage to speak up about matters that concern them
Avoid unwanted publicity in the event that some of your staff are engaged in unscrupulous behaviour
Generate positive publicity from a social responsibility perspective
Reinforce a culture of values-based leadership and senior management accountability
Increase confidence in the quality of leadership being demonstrated across all locations in the company (especially in companies that operate across a geographically diverse area)
As with all People Processes, the difference between a good and great policy is often found in the detail. However, here are some tips on developing and implementing a whistleblower policy at your organisation:
Ensure that the procedure enables whistleblowers to remain anonymous if possible
Design the process in such a way that it minimises or eliminates the risk of detrimental action or reprisal against whistleblowers
Ensure that there are clear processes in place for dealing with complaints that are found to be unfounded or untruthful
Consider utilising independent companies to administer the process (to ensure that complaints could be made about all employees irrespective of their seniority in the organisation)
Ensure that you embed reporting processes that enable you to track the performance of your organisation over time
Be clear on the "scope" of the policy. The types of issues that should be raised via this policy should be very clear. General grievances and complaints should not normally be dealt with via a whistleblower process.
Ensure that you also have a robust "fair treatment" and "EEO complaints" procedure in place. If you fail to do so, you may find that your whistleblower process will uncover a range of complaints that are more effectively investigated via another process
Ensure that your process clearly lays out roles and responsibilities
Since a whistleblower policy is often opened up to public scrutiny it would also be valuable to benchmark the investigation process against external best practice and to potentially engage an external consultant to conduct an independent review prior to launching
At HC, we firmly believe that policies and processes are just one tool that you can use to shape your desired organisational culture. There is no point introducing a whistleblower policy that is not tailored to the specific needs of your organisation. It is also a fraught exercise to introduce such a policy if it is inconsistent with other practices within your organisation. If you would like HC psychologists to conduct an independant review of your whistleblower policy (or any other associated policies) then please do not hesitate to ask.